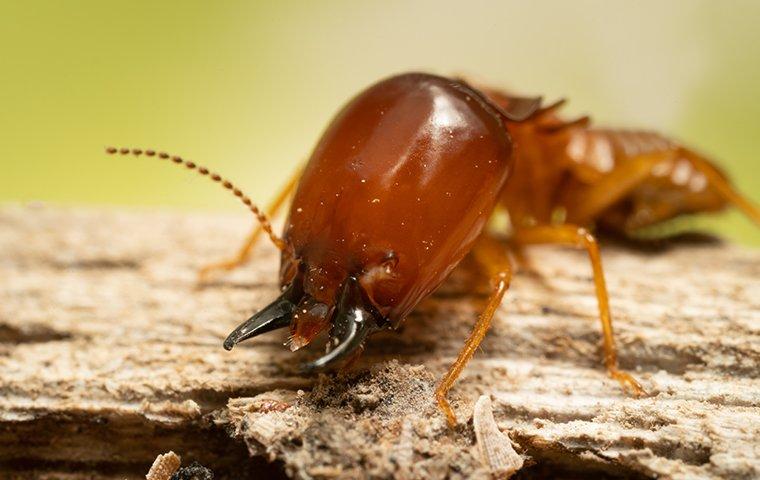 Whether you are a prospective homeowner, an investor, or someone looking to navigate the dynamic real estate market of Birmingham, this article is for you. You'll find it a go-to resource for outsmarting termites and guarding your real estate investments. We'll cover all of the basics: how to catch the subtle warning signs of termite activity, how termite damage escalates over time, how to proactively prevent termite damage, and what certified termite control professionals use for long-term termite damage prevention. If you'd like to speak with a professional regarding your termite questions or to learn about termite pest control in Birmingham, contact us at any time. Your Havard Pest Control service team is happy to assist you.
You're Not Likely To See A Termite: How To Identify Signs Of Activity
The primary issue with termites in Birmingham is that they are elusive pests. It is hard to find signs of termites in your yard. The best way to learn how to detect them is to consider why they're hard to detect.
Worker termites dry out easily. It is one reason they don't crawl around on the ground, or on the wood of your property. They stay hidden in their tunnels, protected by mud lining they make with soil and saliva. If you want to find worker termites, you may have to cut into some wood to expose them. For example, you may cut a chunk off a stump, saw a log in half, or dig around the base of a dying tree. If you see tiny pale-colored insects, you've likely found termites.
Worker termites create structures out of soil and saliva called shelter tubes. These are above-ground tunnels. The workers stay inside the protection these tunnels offer and rarely come out, even while constructing the tunnels. Look for tunnels on your foundation walls. They may look like wiggly mud lines that are about the width of a pencil.
Worker termites live in utter darkness. They avoid all light. So you shouldn't expect to see shelter tubes out in the open. You'll find them on surfaces that are shielded from the sun and moon. If you have a crawl space under a structure, it is the best place to search for mud tubes.
Workers have a preference for natural wood debris, such as branches that fall from trees. If your property has dead branches lying on the ground, you have an opportunity to look for worker termites. You may discover them when you expose the dark, moist hiding places these insects will crawl around in as they feed on the branch.
Workers are not the only termites in a colony. There is one kind of termite that you may easily detect if you recognize it. The termites we are referring to are swarmers. They are the winged termites that leave the nest to mate with each other and create new nests. Termite swarmers are attracted to light and have no trouble flying around in the dry air. But it is possible to miss these termites.
Here are a few reasons why:
Swarmers are only ⅜ of an inch long. You may see one by itself and think nothing of it. To catch a termite swarmer, you need to consider its black and white or dark orange and white coloration and the rounded tips of its wings.
Swarmers are easily recognized when gathered in a swarm. All of the white wings really stand out. But termite swarms last a short time. In less than an hour, the termites mate with each other, shed their wings, and disappear into the ground.
Swarmers only appear after a termite nest has had years to mature, and swarmers typically swarm in the spring. You won't see them until termites have had a chance to damage your property, and you only have a short window to detect them.
If you know what termite workers and swarmers look like, and some of the places you're likely to find them, you may detect active termites on your property. The easiest way to detect termites is by using termite bait stations or to have a licensed professional use equipment and expertise to check for termite activity annually.
From Bad To Worse: How Termite Damage Can Escalate Quickly
There are many factors that can make one termite infestation worse than another. If you understand how things can go from bad to worse, you have a better chance of avoiding termite damage.
Here are a few factors to consider:
When termite workers find wood, the queen knows it. In response, she'll increase the production of offspring. That will increase the amount of damage the termites can do. Keep in mind that termites can feed on a brush pile in the backyard as they also feed on the wood inside structures on your property. That brush pile can be the fuel on the fire that is your termite infestation.
When termites find ample food, they sometimes create a satellite colony. If termites create a satellite colony inside a structure, it will increase how quickly the termite colony can consume available wood timbers.
When a termite colony grows, it will produce swarmers and send them out. Any swarmer couples that survive will start new nests. Viable nests will begin to produce workers and grow their numbers. Once they mature, each of these new nests will produce swarmers and send them out. It is at this point that the termite damage can grow exponentially.
Termites cost U.S. property owners over $5 billion each and every year. That is a staggering statistic. But termite damage is entirely preventable. Let's look at strategies to proactively prevent termite damage.
Protecting Your Property: Effective Termite Prevention Methods
How do you stop sneaky termites from damaging the wood inside the structures you own, or prevent these homewreckers from wrecking your home? We'll use the facts we've shared and link them to prevention methods that will help you stop termites in their tracks.
You now know that termite workers create mud tubes, so you can use that knowledge to help you with prevention. If you force termites to make these structures, you can detect termite activity. For example, store campfire wood on an elevated structure rather than on the ground. Termites will have to create mud tubes on the structure to get to the wood. You can use this strategy in many creative ways. Make those termites work for their meal.
You now know that termite swarmers are attracted to light. If a swarm occurs at night, it may pass you by if you have no exterior lights on. Consider using motion-sensitive exterior lighting that only comes on when you need it.
You now know that termites need moisture. It is essential that they don't find moist ground near your home. One way to prevent ground saturation is to keep gutters clear of debris and in good working condition.
We pointed out that lifting dead branches can help you find active termites. But it is better to not have dead branches lying on the ground. Pick up branches and store them in a disposal bin so termites don't have a food source. Do the same with junk piles. Termites don't just eat dead branches; they eat cardboard pizza boxes, shirts, pants, books, documents, and more.
Termite colonies grow when ample food sources are found. Consider all of the food a termite may eat in your yard and remove as much as you can. Replace an old wooden fence with a vinyl fence. Replace wood lawn ornaments with ornaments made of materials termites don't eat. Use pea stones in your landscaping rather than mulch. Trim wood skirting on structures so the wood doesn't touch the ground, or replace the skirting with another material.
These, and other methods like them, will deter termite activity and reduce the risk of a termite infestation. When combined with vigilant inspections, you will have a good chance of protecting your property from significant damage. But the best and easiest way to avoid termite damage is to contact a Birmingham termite control specialist near you.
Professional Termite Control: Long-Term Termite Control And Protection
When you contact Havard Pest Control for termite damage prevention in Birmingham, we have several options to meet your needs. We may suggest annual termite inspections to give you a heads-up if warning signs appear, an ideal option if you are constrained by budget concerns. We may recommend The Sentricon® System with Always Active™ if you want effective termite detection along with always active colony elimination. Sentricon® is an award-winning termite bait solution. If you currently have a termite infestation, we'll likely recommend a Termidor treatment. We use the most advanced Termidor termiticides which are undetectable to termites. When termites pass through the material, they pick up the active ingredient and share it as they groom each other. Termite termiticide is broad-spectrum and highly effective. If you have recently purchased real estate and are considering building a new home, we can get you started off on the right foot by installing a Termidor treatment into the soil. Whatever your needs, we have the right option to meet your needs. If you live in Birmingham, we're your local termite company. Connect with us today to get help with termite and to learn more about our residential pest control services in Birmingham.