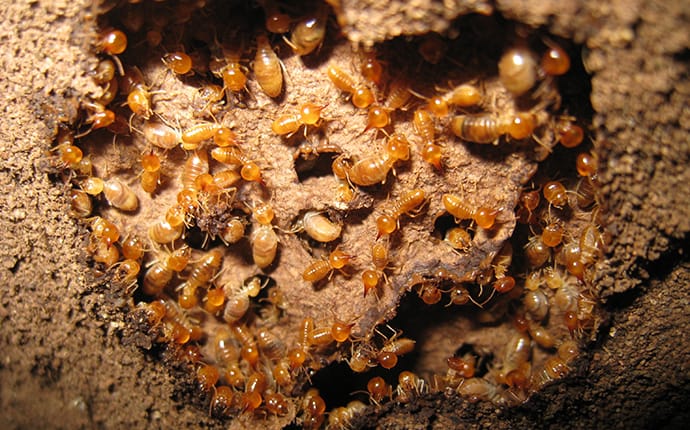 Subterranean termite
The subterranean termite is one of the most common species that live throughout the United States. These termites are moisture seeking pests and prefer to invade wood that is decaying or has been damaged by water. As their name suggests these termites nest underneath the ground. They move back and forth from their food source to nest under the ground or through mud tubes. Mud tubes can be found running along the surface of the ground or along the foundation or exterior walls of the structure they have invaded. Subterranean termites live together in large colonies and divide themselves into different castes or groups (worker, soldier, or reproductive). Each caste is responsible for a specific job within the colony.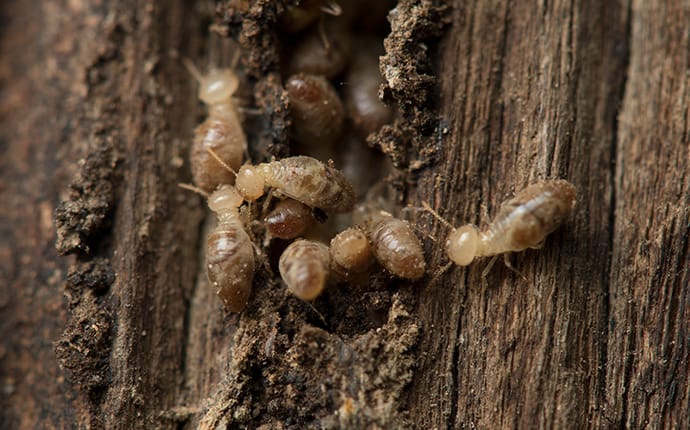 Drywood termite
Drywood termites are found living in a small area of the United States- in a narrow strip from Virginia and south to Florida, along the Gulf of Mexico and from Mexico to Northern California. Drywood termites generally live in undecayed wood which has a very low moisture content. Unlike subterranean termites, they do not require any contact with soil and they live inside of the wood they are feeding on. Drywood termites live together in smaller colonies and work at a much slower rate than subterranean termites. However, they work in a very neat and efficient manner, only leaving behind a thin exterior layer of the wood they have invaded.
How termites gain access?
The most common way subterranean termites gain access into a home is at the ground level through wood to soil contact. Subterranean termites invade wooden structures (door frames, decks posts, wooden shingles and porch steps) after emerging from the soil. These termites also find their way inside through cracks in the foundation that they accidentally move through while out foraging for food.
Drywood termites can find their way into a home at any level. They will enter through cracks and crevices in exterior walls or through spaces in the foundation. They can also accidentally be introduced inside of old pieces of barn wood, inside of pieces of structural wood, or inside of pieces of antique furniture.
Where do termites hide?
Subterranean termites have high moisture needs and are found either in the soil, in their underground nest, in their mud tubes, or inside of the structural wood they are feeding on. Subterranean termites are initially attracted to wood that is decaying or has been previously damaged by water. As the infestation grows they will invade more areas of your home and eventually begin to consume sound wood.
Dry wood termite infestations are usually confined to a small area of a home. They are often found invading and feeding on woodwork, structural timbers, and wooden furniture. Outside they will invade wood furniture, wood playsets, and wooden fences.
What are the signs of termites?
Termites are rarely seen by people. Termites are considered a "silent" pest that feeds on the inside of the wood they have invaded. It is usually not until after their damage is discovered that the infestation is found. Signs of termites include:
Mud tubes running across your yard or traveling up your home's foundation or basement walls

Bubbling or splintering along baseboards or drywall that is in your home

Doors and windows that are no longer opening or closing properly

Sagging floors or ceilings

Wood in your home that sounds hollow when you tap or knock on it

Floors that feel "spongy" when you walk across them

Drywood termites create tiny holes in the surface of walls or pieces of wood

Mounds of fecal pellets under the floor of drywood termite entry holes
Can I get rid of termites myself?
Termites are highly invasive and can have serious effects on the structural integrity of your home. We strongly encourage you to call a professional as soon as you suspect that you may have a termite infestation. Call us at Havard Pest Control to take advantage of our 70 years of pest control experience.
Termites Prevention Tips
There are a few things you can do to try and prevent termites from entering into your home:
Limit wood to soil contact on your property

Leave a stone barrier between the foundation and any mulch or soil

Reduce moisture levels in your home by using dehumidifiers, fixing leaky pipes or fixtures, and removing any wood that has been damaged by water

Inspect the foundation, exterior walls, and roofline of your home for small holes, cracks, or crevices

Seal all possible entry points found

Store firewood and scrap wood a distance away from the exterior of your home

If possible, don't bring old barn wood into your home

Inspect wooden antiques for signs of termites before purchasing for your home

Stain or paint bare wood in your home or wooden structures on your property